Jeff Murphy
Richard Abrams
Roberto Albån
Alberto Ospina
Julie Sobelman
John Drummond
Rich Garretson
Mico Miller
Spiros Serpanos
Harry Monahan
Barry Shull
Bill Kennedy
Ricardo Perez
Alejandro Sanin
Alberto Mario Ospina
Americas: Supply Chain Optimization; Organizational Redesign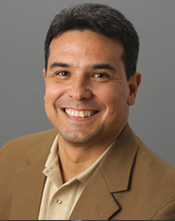 Alberto is a TMG Energy Supply Chain Senior Consultant with focus on global strategic sourcing; procurement and contract management; procurement process; organizational redesign; and procurement training.
Alberto has professional experience spanning more than 20 years through multiple regions in Canada, USA and Latin America. He has held various positions with global responsibility at a highly recognized oil and gas global company, as well as executive positions in a "Big Four" consulting company in the areas of Supply Chain, Sourcing and Procurement.
Recently, he has provided consulting services to clients in the energy industry in post-merger Supply Chain optimization, Procurement Transformation, Category Management and implementation of best practices in post-award Contract Management
Alberto holds a degree in Civil Engineering from Universidad Javeriana in Bogota, Colombia and an MBA from The George Washington University in Washington DC. He is fluent in English and Spanish and resides in metro Washington DC.
"On behalf of Consultoria Colombiana I wish to thank you for your cooperation in the learning and growth trip of our consulting team to the USA; it was very beneficial not only for the team but also for our FlexFuel, Ethanol project, therefore I believe that this experience will bring benefits for Colombia ensuring that the best decision is made by the government. We are happy of having made contact with you, and not only for this project, as we can now interchange ideas and businesses for other projects that are beneficial for both parties."