Jeff Murphy
Roberto Albån
Lemuel Tsikirayi
Michele Lai Auerbach
Julie Sobelman
John Drummond
Rich Garretson
Mico Miller
Spiros Serpanos
Barry Shull
Alejandro Sanin
Lemuel C. Tsikirayi
Africa Marketing, Retailing and Organizational Development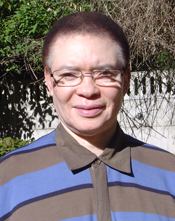 Lemuel has more than thirty years experience in supervisory and senior management positions more than twenty of which were in the downstream oil industry in Southern African subsidiaries of a major oil company . He had acquired significant experience in Retail Sales / Convenience retailing before assuming a CEO position in one of the subsidiaries.
Some of his key accomplishments include business turnaround strategies not only in profitability but in safety, controls , audit and credit management . Lemuel also excelled in organisational restructuring and change management having presided over a merger process on two occasions. Working in margin controlled environments , Lemuel has gained experience in negotiating pricing formulas which ensured both oil industry and retail dealer viability.
While working in functional positions, Lemuel's supervisory experience spanned over HR/ Public affairs, fuel depot operations, transport, engineering, real estate and planning / strategic operations reviews.
Now resident in Zimbabwe, Lemuel is pleased to join TMG as a senior consultant. He has just concluded a nine month full time assignment with a major Oil Company as Change Management and Project Consultant working in Malawi, Kenya, Uganda and Zimbabwe.
A keen musician, Lemuel's extra curricular activities include fellowshipping at the Salvation Army where he plays trumpet in the brass band . He holds a Bachelor's Degree in English and History and a Graduate Certificate in Education. With a special interest in languages, Lemuel speaks several Southern African languages in addition to English and French.
"On behalf of the Iraq Oil Ministry, we would like to express our deep gratitude and respect to The Murphy Group LLC for conducting the Global Downstream Energy Modernization Training Workshop in Cairo, Egypt. In four short days, we gained invaluable, global information, best practices and experiences regarding energy deregulation processes, retailing, distribution and refining. TMG expanded our horizons of thought and we will make use of this new knowledge in the various fields of work, as much as we can. May God bless us all. Peace be upon you."